Biography/Wiki
Cardi B Wiki
Cardi B is a successful rapper and reality TV star and her real name is Belcalis Almanzar. She has never denied that she went under the knife, on the contrary she is very open about it.
Well why did she undergo plastic surgery? One of the reasons, she said, is that she needed to feel more confident about herself. "I wanted to be a successful celebrity, so I improved my looks" she explained.
She has undergone some successful plastic surgeries, but some have been really scary, such as her butt injection (more about that below).
New Teeth – Total Transformation
The name of her dentist is Dr. Catrise Austin and she is located in New York City. She did a fantastic work on Cardi B's teeth.
The procedure actually cost approximately $40,000.
Why did she do it? The main reason is that she received so much criticism for her crooked teeth on her Instagram, therefore she sought the dentist to fix it. Did you know that DJ Khaled went to the same dentist to get his teeth fixed? Not everybody are born pretty.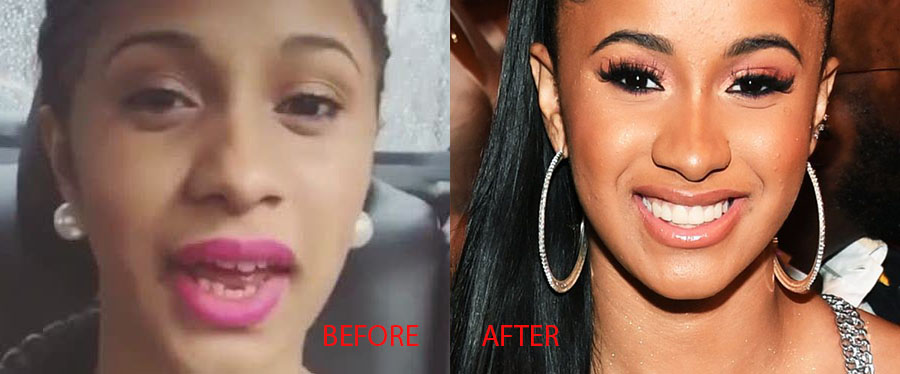 Boob Job – Big Scale Enhancement
If you look at the before and after picture there is a big difference when it comes to her boobs' appearance. They are fake! She has openly admitted this many times. The first time she admitted it was during Ellen Degeneres' TV-show.
Maybe you didn't know that she worked as a stripper before, but this seems to be the reason why she got herself a breast enhancement. Her customers appreciated big boobs, and she figured she could earn more money with bigger boobs. And so she did… at the age of 20.
But there are no regrets to talk about. "It was an investment" she explained.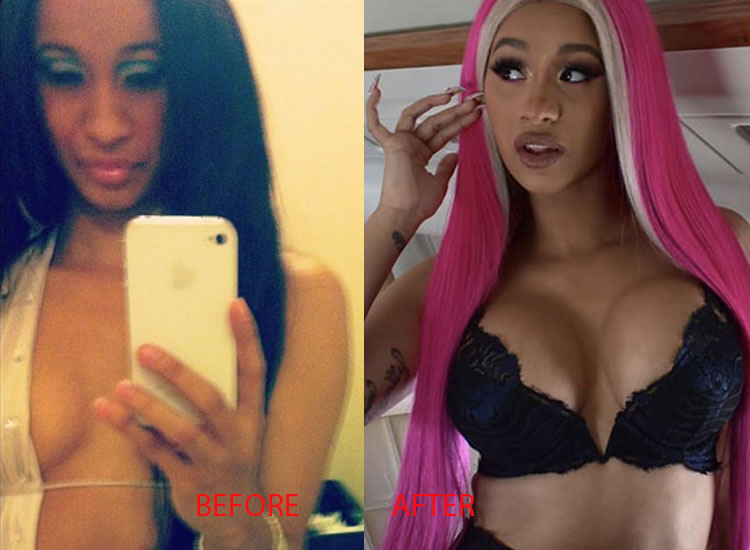 Butt Injections – A Mistake?
Cardi B had butt injections for $800 in order to enhance her looks, she also had a butt lift. This wasn't she wanted at the beginning though. She wanted liposuction and to transfer her fat. But as it turned out she did not have enough fat to do this, thus the injections instead.
Unfortunately her butt leaked for several days and she was in pain. The doctor wasn't as good as she thought. The lesson to be thought: don't go to cheap unexperienced surgeons, it will only end in misery.
Today her bum has recovered and she looks absolutely great!
Nose Job – Is Plastic Surgery Involved?
Cardi B has admitted that she doesn't think that her nose is perfect, and that she has considered rhinoplasty. But as of today (2019) She has not undergone any nose job what so ever. It has been the same shape since always. If it looks different sometimes, it is because of the work of her makeup artists, which makes her nose look narrower.
Plastic Surgery
Which plastic surgery procedures have Cardi B done? Below we have compiled a list of all known facts about the stars beauty enhancements: